The ultimate fall protection system for your loading dock.
The Fall Guard loading dock fall protection door features full coverage fall protection to go beyond OSHA standards. Built with extremely durable materials, our patent-pending design is engineered to be easier to deploy and safer to use.
Patent pending design features industry-first Safety Web with full-height loading dock fall protection.
Exceeds OSHA 
1910.28 & 1910.29 standards for loading dock 
fall protection and prevention.
Easy-to-activate visual and physical barrier improves safety & security at your dock.
Other systems check a box.
Fall Guard keeps your people safe.
The other guys focus on simply checking the OSHA box, leaving a majority of the dock opening for possible falls and injury above or through their barrier. Fall Guard provides the ultimate loading dock fall protection to ensure complete safety and security by covering the entire opening.
LEARN MORE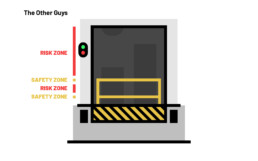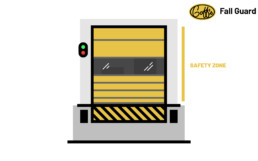 10 x 12 Fall Guard door pictured with red mesh door panels featuring Bug & Pest Barrier option.
Our patent pending design features 5 pultruded fiberglass restraint bars within 42″ of the floor, making Fall Guard the best option for reliable safety at your dock door. Even If a bar is displaced out of the track, the others move to add additional support to keep your employees safe.
Goff's doors come standard with premium features:
All wind bars include full end caps to reduce friction, and allows for easy panel replacement.
Fiberglass wind bars won't take a set or kink if impacted, always returning to their original shape.
Pre-assembly minimizes your installation time and ensures high quality standards.
Stainless Steel hardware comes standard on Fall Guard to protect against corrosion.
In-Tube Motor
Maximize efficiency at your loading dock with our 12"/sec In-Tube Motor! This option is completely concealed within the door's roll tube, eliminating any external damage or wear.
In-Tube Motor
Goff's In-Tube Motor is completely concealed within the door's roll tube, eliminating external damage or wear. Conveniently operate your door without any manual effort!
Manual Chain Hoist
Our Chain Hoist operator utilizes a 4:1 gear ratio for easy operation, and features an integrated brake to securely stop the door at any point in the opening.
Mesh or Vinyl Panels
Allow natural air flow and ventilation into your building. When using mesh panels, the Fall Guard can provide a 65% shade factor keeping your employees safe, comfortable, and productive.
Bug & Pest Barrier
Unlock the full potential of your dock door by adding side and top seals to your Fall Guard door to prevent unwanted pests and bugs from entering your building while dock doors are open and the Fall Guard is in place.
Track Guards
Add Track Guards to protect the Fall Guard side guides from impact and damage from forklifts or other machinery. Our powder coated, safety yellow steel guards will ensure that your dock remains intact for years.
Sizes
Fall Guard Doors are available in sizes up to 12' x 12'.
18oz Vinyl Colors
Custom colors available on request:
Bug Mesh Colors
Custom colors available on request:
Door is mounted directly onto the face of the wall around the opening.
Mount your door over an existing bay door with stainless steel projection brackets.
Mount your door within your door frame or in-jamb. Not available for G1 Plus.
Add a door opening to your curtain walls with our free-standing door support frame.
We designed Goff's loading dock fall protection door to meet and exceed OSHA standards for loading dock fall protection. Most solutions on the market don't cover the entire dock opening, therefore allowing for accidents. The better engineered and safest option for your dock is Goff's OSHA fall protection door. In addition, each custom OSHA fall protection door includes Goff's best-in-class warranty and exceptional customer care & tech support, delivered fast with our industry-leading lead times.
Choosing OSHA fall protection:
Things to take into consideration when choosing the right loading dock fall protection door for your facility include: traffic type, door size, environment of the application, and sensor & building systems integration needs.
Goff's Fall Guard doors are available in a range of speeds and sizes. We offer powered in-tube motor options that operate at 12″/second or 6″/second and manual chain hoist. our OSHA fall protection door is available is sizes up to 12 x 12. Whether you prefer manual or automatic door activation, you'll find a door that fits your needs.
Custom options:
Goff's Fall Guard feature a variety of colors and material options for door panels & headers. Therefore, you can take your company branding to another level by creating an appealing appearance, boosting company moral! Moreover, with up to 8 mesh color options, you can customize panels to draw attention to the door. On the other hand, you can choose colors to compliment your building colors.
In the same vein, panels are easily replaceable in case of damage. In other words, there is no need to replace the entire door. Instead, just replace the individual panel that is damaged. These are affordable and quickly shipped as needed. Similarly, you can change out the panels based on season. In the summer months utilize the mesh option for the natural ventilation described earlier or add solid vinyl for added insulation.
Protect your loading dock & eliminate bugs.
Protect your loading dock while allowing natural airflow and eliminating unwanted visitors! Goff's loading dock fall protection door can feature upper, side, and floor seals to ensure a complete barrier solution. As a result, this helps improve productivity & morale in your facility.
Built to withstand your daily warehouse activity.
All Fall Guard doors come standard with heavy duty pultruded fiberglass wind bars and corrosion-proof PVC tracks. Our OSHA fall protection door can keep you up and running, maximizing productivity potential for your warehouse.
Check out the Download tab for more information on everything door related!
Best in Class Warranty
Goff's offers a best-in-class warranty for the Fall Guard from failure in normal use for a period of 2 years for parts and 1 year for labor. This warranty includes all parts and labor as approved by Goff's tech support team to keep you up and running.
Fastest Industry Lead Times
With consistent lead times of 3 weeks or less, you can have your complete Fall Guard safety system installed and active to provide maximum protection at your dock doors in no time.
Customer Care & Tech Support
The Goff's customer care & tech support team is available to answer any questions you have about your Fall Guard system, making sure you not only get the most out of your investment, but ensure it runs smoothly for years to come.
Ready to add fall protection to your loading docks?
Click below to get a quote on our Fall Guard loading dock safety system with the options you need to meet OSHA's requirements for fall protection, and maximize safety at your facility.
Request a Quote