Designed with durability in mind for wash down and wet applications.
This durable wash down door was designed and manufactured with wash down procedures in mind and delivers long term durability.
Intelligent Control System
Fully programmable logic controller & variable frequency drive system, packaged in a NEMA4X enclosure.
Our durable IP65 rated motor provides the ultimate solution to reliable door operation in wash down environments.
IP67 Photo Eye Safety Sensor
This IP67 safety sensor is specifically designed for wet environments to maximize safety in your wash down areas.
Corrosion-Resistant Material
Our stainless steel & PVC door construction maximize durability for years of maintenance free operation in harsh environments.
IP65 wash down rated motor that operates your door at 20" or 42"/sec
Comes standard with our wash down capable IP67 photo eye safety sensors
Keeps water in and contaminants out with our full perimeter seal on your door
6'x7′ Clean Guard door pictured with white 18 oz vinyl & vision panels.
Goff's Intelligent Control System.
This durable wash down door comes with our Intelligent Control System. The ICS features a PLC and VFD in a NEMA4X enclosure to maximize integration. This technology provides full function flexibility for the end user. Check out our interactive ICS piece to see the outside of the system and the wiring on the inside. Download our control system brochure below to learn more.
Download brochure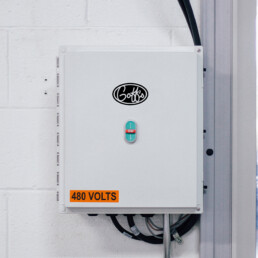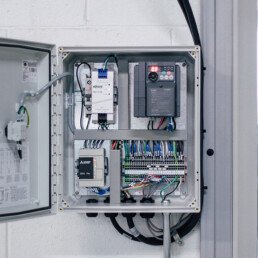 PVC side guides are resistant to rust or corrosion. They are designed to last for years at every opening in your facility.
Fiberglass wind bars yield to direct impact without permanent damage. In addition, they do not rust or corrode in wet applications.
All Goff's Mesh, Vinyl, and clear PVC door panels feature welded seams, resist UV rays, and are rot, tear, and mildew resistant.
Goff's doors come standard with premium features.
Goff's durable wash down door comes with our standard features package at no additional cost:
1. Full Width Header Cover
2. Auto-Reset After Impact
3. Auto-close Timer
4. Full-Width Window
5. Easy-to-Replace Panels
6. Fiberglass Wind Bars
Maximize your clean space:
Achieve maximum production capability at your facility by separating your wash down areas using Goff's Clean Curtain. Our curtains allow you to keep separate lines up and running while others go through wash down cycles. As a result, this keeps your operation up to code while producing at optimal capacity and minimizes downtime during required wash down periods. Furthermore, our Clean Curtains with stainless steel track and hardware prevent corrosion and control any overspray to achieve maximum quality standards at each production line.
Every space is different. Make sure your door is the perfect fit.
Goff's offers a variety of options & accessories to maximize efficiency & productivity wherever your food processing industrial door is placed in your facility.
Automatically activate your door without the need for remotes or buttons.
Operate your door remotely from forklifts & vehicles to maintain productivity.
Easy operation in close proximity for pedestrians, forklift, and vehicles drivers.
NEMA4 rated push button station available for outdoor or moisture-prone areas.
Clean Guard Doors are available in sizes up to 12′ x 12′.
Comes standard with our 18 oz vinyl:
Option to upgrade to our thicker 32 oz vinyl:
Door is mounted directly onto the face of the wall around the opening.
Ability to install your door anywhere with our free-standing door support frame.
Goff's line of high performance doors is built with variety to fit any application in your facility. Each custom vinyl door includes Goff's best-in-class warranty and exceptional customer care & tech support, delivered fast with our industry-leading lead times.
Choosing your door:
Things to take into consideration when choosing the right high performance door for your facility include: traffic type, door size, environment of the application, and sensor & building systems integration needs.
Goff's food processing industrial door is available in high speeds of 20″ or 42″/sec (up to 120 cycles/hour). Whether you have foot and forklift traffic or need to do a complete wash down, you will find this door fits your needs. For instance, keep the door open for traffic needs, or close it for an air tight wash down environment. This durable wash down door can cover an opening of up to 12'x12′.
Our durable wash down door comes standard with Goff's Intelligent control system. Moreover, this system integrates with a wide array of sensors, building control systems, and security options. Whether you're interlocking doors to prevent cross contamination, or installing additional fire safety features, Goff's doors have you covered.
Custom options:
Goff's food processing industrial door features a variety of colors in our 18 oz material for door panels & headers. You can take your company branding to another level by creating an appealing appearance, boosting company moral!
Goff's door panels are also easy to replace. Therefore, you can easily swap colors or replace a panel if damaged.
Check out the Downloads tab for more information on Clean Guard!
Goff's offers a best-in-class warranty for the Clean Guard from failure in normal use for a period of 3 years. Additionally, this warranty includes all parts and labor as approved by Goff's tech support team to keep you up and running.
Fastest Industry Lead Times
With the industry's fastest lead times, you can have your Clean Guard system installed at your facility in no time. Furthermore, this will minimize downtime & maximize productivity to ensure efficiency at your facility.
Customer Care & Tech Support
The Goff's customer care & tech support team is available to answer any questions you have about your Clean Guard, making sure you not only get the most out of your investment, but ensure it runs smoothly for years to come.
Ready to wash down your facility with ease?
Click below to get a quote on our Clean Guard Door with options you need to meet your wash down standards.
Request a Quote