Outfit your small interior openings to maintain work flow.
The Goff's Model 2000 door features our PVC track guides, and operates at 20″/sec. Being an economical industrial vinyl door, the Model 2000 is an easy choice for your moderate traffic applications.
Goff's basic Relay Control System (RCS) features a relay logic board in a NEMA4X enclosure. As a result, it interprets sensor and switch signals controlling your door.
Goff's direct drive motors provide a reliable drive system, featuring a wide range of functional options and requiring little maintenance.
Reflective Photo Eye Sensors
These safety sensors detect any movement under the door and stop the door from closing. Therefore, eliminating any accidents and provides maximum safety at your facility.
Door travels at 20"/sec, up to 30 cycles/hour.
Corrosion-resistant materials providing longterm durability.
Ideal option for low to medium interior traffic areas.
10'x10′ Model 2000 door pictured with green and vision replaceable panels.
Goff's Relay Control System.
The Model 2000 door comes with our Relay Control System: Motor operated by relay logic board in a NEMA4X enclosure. Check out our interactive ICS piece to see the outside of the system and the wiring on the inside. Download our control system brochure below to learn more.
Download Brochure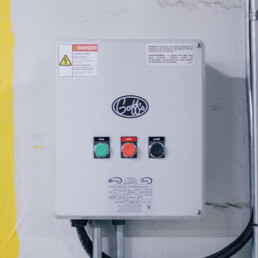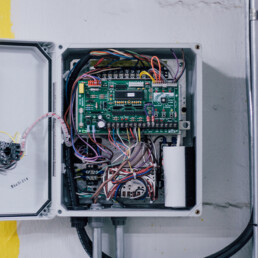 PVC side guides are resistant to rust or corrosion. They are designed to last for years at every opening in your facility.
Fiberglass wind bars yield to direct impact without permanent damage. In addition, they do not rust or corrode in wet applications.
All Goff's Mesh, Vinyl, or clear PVC door panels feature welded seams, resist UV rays, and are rot, tear, and mildew resistant.
Goff's doors come standard with premium features.
Goff's economic industrial vinyl door comes with our standard features package at no additional cost:
1. Full Width Header Cover
2. Auto-Reset After Impact
3. Auto-close Timer
4. Full-Width Window
5. Easy-to-Replace Panels
6. Fiberglass Wind Bars
Browse our Document Library
Use the table below to browse our Model 2000 Door document library. Use the "Document Category" dropdown to filter by type, or search using the search bar on the right. Can't find what you're looking for? Click the button below to browse our complete document library.
VISIT COMPLETE DOCUMENT LIBRARY
Every space is different. Make sure your door is the perfect fit.
Goff's offers a variety of options & accessories to maximize efficiency & productivity wherever a Goff's high performance door is placed in your facility.
Automatically activate your door without the need for remotes or buttons.
Operate your door remotely from forklifts & vehicles to maintain productivity.
Easy operation in close proximity for pedestrians, forklift, and vehicles drivers.
NEMA4 rated push button station available for outdoor or moisture-prone areas.
Model 2000 Doors are available in sizes up to 12′ x 12′.
Custom colors available on request:
Custom colors available on request:
Door is mounted directly onto the face of the wall around the opening.
Ability to install your door anywhere with our free-standing door support frame.
Ability to project your door around an existing door with stainless steel bracketry.
Goff's offers a best-in-class warranty for the Model 2000 from failure in normal use for a period of 3 years. Additionally, this warranty includes all parts and labor as approved by Goff's tech support team to keep you up and running.
Fastest Industry Lead Times
With the industry's fastest lead times, you can have your Model 2000 system installed at your facility in no time. Furthermore, this will minimize downtime & maximize productivity to ensure efficiency at your facility.
Customer Care & Tech Support
The Goff's customer care & tech support team is available to answer any questions you have about your Model 2000, making sure you not only get the most out of your investment, but ensure it runs smoothly for years to come.
Goff's line of high performance vinyl doors is built with variety to fit any application in your facility. Each custom industrial vinyl door includes Goff's best-in-class warranty and exceptional customer care & tech support, delivered fast with our industry-leading lead times.
Choosing your door:
Things to take into consideration when choosing the right door for your facility include: traffic type, door size, environment of the application, and sensor & building systems integration needs.
Goff's doors are available in a range of speeds and sizes. The Model 2000 is an economical industrial vinyl door offering speeds up to 20"/sec (30 cycles/hr). This low traffic vinyl door is ideal for foot traffic areas at your facility. This door accommodates openings up to 12'x12′.
Our custom industrial doors come standard with proprietary Goff's control systems. These systems integrate with a wide array of sensors, building control systems, and security options to outfit your facility. Whether you're interlocking doors to prevent cross contamination, or installing additional fire safety features, Goff's doors have you covered.
If the Model 2000, our low traffic vinyl door, isn't lining up with your facility needs, head over the G2 Door page for additional options.
Custom options:
Goff's line of custom industrial vinyl doors feature a variety of colors and material options for door panels & headers. Take your company branding to another level by creating an appealing appearance, boosting company moral! Moreover, with up to 10 color options, you can customize panels to draw attention to the door. On the other hand, you can choose colors to compliment your building colors.
Check out the Download tab for more information on everything door related!
Be sure to check out Goff's YouTube channel for videos on our door line.
Ready to outfit your facility for efficient work flow?
Click below to get a quote on our Model 2000 with the options you need to maximize efficiency & work flow at your facility.
Request a Quote